Papaya is one of these fruits, which not only tastes great but is also very healthy and rich in lots of valuable components. Originally it comes from South America, but nowadays, it is also cultivated in the South of Europe. Papaya fruit, with its soft and firm inside, not without reason, was called by Christofer Columbus the fruit of angels.
This smooth and sweet fruit goes perfectly with other fruits or vegetables. Unfortunately, papaya is more suitable for blending than for juicing in a juicer. All because of its delicate consistency. However, it is possible to get juice from papaya when using a good-quality masticating juicer. During that process, you will get rid of dietary fiber, which helps digest, and you will get not pulpy, quite clear juice.
Tip. For juicing papaya in masticating juicer choose the hard fruit. It will not be that ripe and firm. That is why the juicer will handle juicing it much better.
Before making papaya juice in a blender or a masticating juicer, cut it into halves, rip off the skin and remove the black seeds from their inside. Although papaya seeds are edible and can be used as a seasoning for dishes, they will not taste pleasant in your juice.
But what is the best combination of products for juicing? Which other fruits and vegetables mix papaya? Below you can find a few juicing inspirations. Those are our favorite papaya juicing recipes. When consumed in the morning, those juices will give you a great start and provide you with energy for the rest of the day.
1. Papaya Juicing Recipes
Papaya juicing recipes using a blender:
Orange Color Rules
½ of peeled papaya

Juice from 2 squeezed orange

3 peaches without skin

Blend all the ingredients until it will be smooth
Oh, Papaya!
½ of peeled papaya

1 apple without seeds

1 pear without seeds

Juice from one lemon

½ glass of water

Blend the ingredients and enjoy the juice. 
Perfect couple
½ of papaya without seeds and skin

2 bananas

Few drops of lime juice

½ glass of water (if needed)

Combine all ingredients in a blender and blend for a few minutes.
Papaya juice recipes using a masticating juicer:
All About The Orange
1 sweet potato

½ of papaya 

3 carrots 

1 orange

Juice all the products with a masticating juicer.
Unobvious Combination
Seed from two corns 

½ of peeled papaya

2 carrots 

2 pears

Combine the ingredients in the masticating juicer.
Beet and papaya
1 beetroot 

1 grapefruit 

½ of peeled papaya 

1 apple without seeds

Juice all the ingredients with a slow juicer.
Papaya juice is known for its fantastic health benefits. It is loaded with Vitamin C (in 100 ml/3.5 fl. oz, 75% of a daily dose of it) and has a decent amount of vitamin A, B9, B5, beta-carotene, and minerals, like Magnesium, Calcium, and Iron.
Thanks to Vitamin C, papaya juice boosts the immune system and protects our bodies from infections. It is also beneficial to the sight due to the vitamin A content. It improves vision, slows age-related disorders, and prevents night blindness.
Due to flavonoids and antioxidants, papaya juice fights free radicals and even helps to fight cancer. When consumed regularly, it can protect from colon, prostate, or breast cancer. 
Drinking papaya juice can provoke uterus contraction. That is why pregnant women should not drink it. Although, for those who are struggling with painful menstruation, papaya juice can be a relief. It may also regulate the menstrual flow.
Papaya juice is also beneficial to the skin. It eliminates the dead skin cells and hydrates skin. It can be used as a natural remedy for sunburn.
Tip: What to do with the papaya pulp after juicing the fruit in a masticating juicer? Use it as a face mask! It will beautify your skin, make it more hydrated and softer.
If you are suffering from dandruff or your hair is dry and looks unhealthy, papaya juice can be your first aid in those problems. When applied directly onto the scalp and hair, it helps cure dandruff and makes your hair look shiny and nutrient.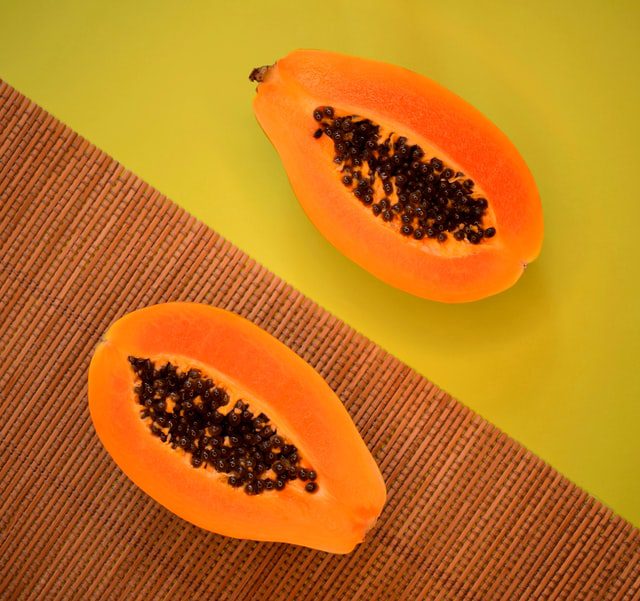 The table below provides you with information about the vitamin and mineral content in 3.5 / 100 ml of papaya juice.
If for some reason, you have not tried papaya juicing recipes yet, it is time to start. Enjoy its extraordinary advantages that papaya juice brings for your health. Try to find out your combinations of ingredients and use the products you like the most.
Remember that juicing papaya is more convenient than using the blender, but the good masticating juicer will also handle this fruit. However, when the juicer is not efficient enough, there is a possibility it will just smash the papaya and move into the pulp container, giving only a few drops of juice. 
In this article we provide a thorough comparison between blender and juicer – Blender versus Juicer.
May it become your healthy habit to drink a glass of healthy juice per day!