Juicing is one of the best options for using food efficiently since it aims to get all the nutrients and pack it all in your drink while even letting you play with the flavor. This is important particularly for green leaves and vegetables which could be a little hard to eat. In this article we are going to give an Omega VSJ843 review.
With tons of brands offering juicers, choosing one that is capable of squeezing even green vegetables is challenging because many of them are not as easy to use and are harder to clean. Through vertical slow juicers like the Omega VSJ843, juicing is now hassle-free and efficient.
A Vertical Slow Juicer (thus its code, VSJ843) is known for its gentle, low-speed juicing process that retains food's nutritional value better than high-speed juicers and can be used with a wide range of produce. This Omega juicer has been a favorite by juicing experts and enthusiasts for several years up to this day.
This juice extractor is famous for allowing consumers to make the finest product possible. It is considered the world's first patented juicer that utilizes the SST or Slow Squeezing Technology. This enables it to extract the maximum amount of juice, nutrients, vitamins, and flavor from all types of produce while leaving visibly less pulp.
Omega VSJ843 is a vertical slow juicer, which can handle different kinds of produce and makes higher yields with better nutritional value.
It's the slowest and quietest masticating juicer that Omega offers.
It utilizes Slow Squeezing Technology, which yields the maximum amount of juice along with the nutrients that come with the produce while leaving little to no amount of pulp.
Omega is a trusted brand in making quality juicers and blenders, which is why VSJ843 is surely efficient and would be functional for a long time
Omega has already been around in the juicer and blender manufacturing industry for 35 years which means that VSJ843 is surely made of quality materials. This series is the slowest and therefore the quietest masticating juicer that the brand offers, which promises the best quality of juice you can get.
That said, as the Omega brand is already longstanding, you would not have problems with getting spare parts in the future. The Omega VSJ843 combines style and function to give consumers a top-notch extraction process and the healthiest juice possible. Its features have improved over time.
Durable and Compact Design
Extracts maximum possible juice yield with little to no pulp visible
Juice Tap/Valve
Automatic Wiping System for easy cleaning
User-friendly
15-year Manufacturer's Warranty
Quiet operation
Easy to assemble/disassemble
Though this product is surely efficient, it would still have a few downsides. Let's break down the pros and cons below:
| | |
| --- | --- |
| | |
| Slow juicing at 43 RPM for maximum yields | |
| Dual-Edge Technology Ultem Auger | Slightly heavier than other vertical slow juicers |
| | Narrow chute, prone to machine jams |
| Auto-Cleaning System and pulp ejection | Need extra prep time to cut produce in small pieces to fit chute |
| Juice shelf life of up to 72 hours | Time consuming as it is a slow juicer |
| Includes a no-drip juice tap | |
| Less noise when operating | |
| Minimized heat build-up and oxidation | |
| | |
| Powerful motor that works for all types of produce | |
4.1. Performance
VSJ843 runs at half the speed of standard masticating juicers and makes a very soft whir while operating. According to customers, the only audible sounds are the and crunching of produce and the soft hum of the motor.
It has a mixing feature that comes with a dual-edge auger which drives the wiper blades that rotates while operating.
This eliminates the need for a separate gear mechanism. This feature keeps your juice thoroughly mixed and also works in removing any pulp accumulation from the juicing screen. This ensures less clogging up or jamming.
The VSJ is heavy-duty, can run for a duty cycle of about 30 minutes, and can handle both hard and soft produce without a problem which makes it one of the best Omega juicers.
4.2. Impressive Design
It is compact and modern, designed to take up less space, and is easy to add to any kitchen countertop's setting. It comes in Silver and Red colors. Plastic components that come in contact with the food are all BPA-free.
A key component of its design is the juice valve or tap, which allows you to control the flow of juice. This way you can avoid leakage on your counter. Another advantage of the tap is it can hold the water inside while you are using the auto cleaning feature.
The auger is shaped slightly differently to be able to power the automatic wiping system. The screen is primarily made of stainless steel and is more compact. The mesh holes are smaller, which strains the produce better so you would have a finer consistency.
Furthermore, it is mindfully created that it has fewer nooks and crannies, accessible passageways, and can be assembled and disassembled easily for customers' convenience. It also comes with a reverse button to help you out in case you encounter machine jams.
4.3. Easy to Clean
As mentioned above, this juicer has an auto-rinsing function. Before disassembly, close the tap and pour water in, then let the juicer run again for a few minutes. This automatically removes pulp build-ups, and it comes with a brush to aid in cleaning the screen and scooping out remains from under the auger.
Tip: Remember to not let the pulp dry in the mesh screen because it will be harder to remove later on.
This feature also allows for rinsing in between recipes, which is really helpful and saves a lot of time.
4.4. Easy to Use 
This is very simple to use even for beginners. Most of the work lies in the prepping time. Just make sure to cut your produce into pieces small enough to go through the chute, drop them one at a time, and switch it on.
Aside from the reverse button, the machine comes with a pusher that could help you in guiding and pushing food through if they seem to get stuck.
4.5. Can Handle All Types of Produce
The VSJ843 works well on all types of produce: from citruses and leafy greens to soybeans and nut milk and even dense produce. Here are some examples:
Citruses: orange, tangerine, lemon, and lime.
Leafy greens: dandelion greens, pine tree needles, peppermint, parsley, spinach, cabbage, brussels sprout, basil, spring onion, moringa, collard greens, and beet greens. These are often preferred to be mixed in smoothies.
Heavy/Dense produce: fruits, vegetables, and root crops such as apple, pineapple, pear, bitter gourd, fennel, cilantro, sweet potato, pumpkin, pepper, broccoli, asparagus, and turmeric. Also, ginger is great for adding an extra kick in flavor for other juices.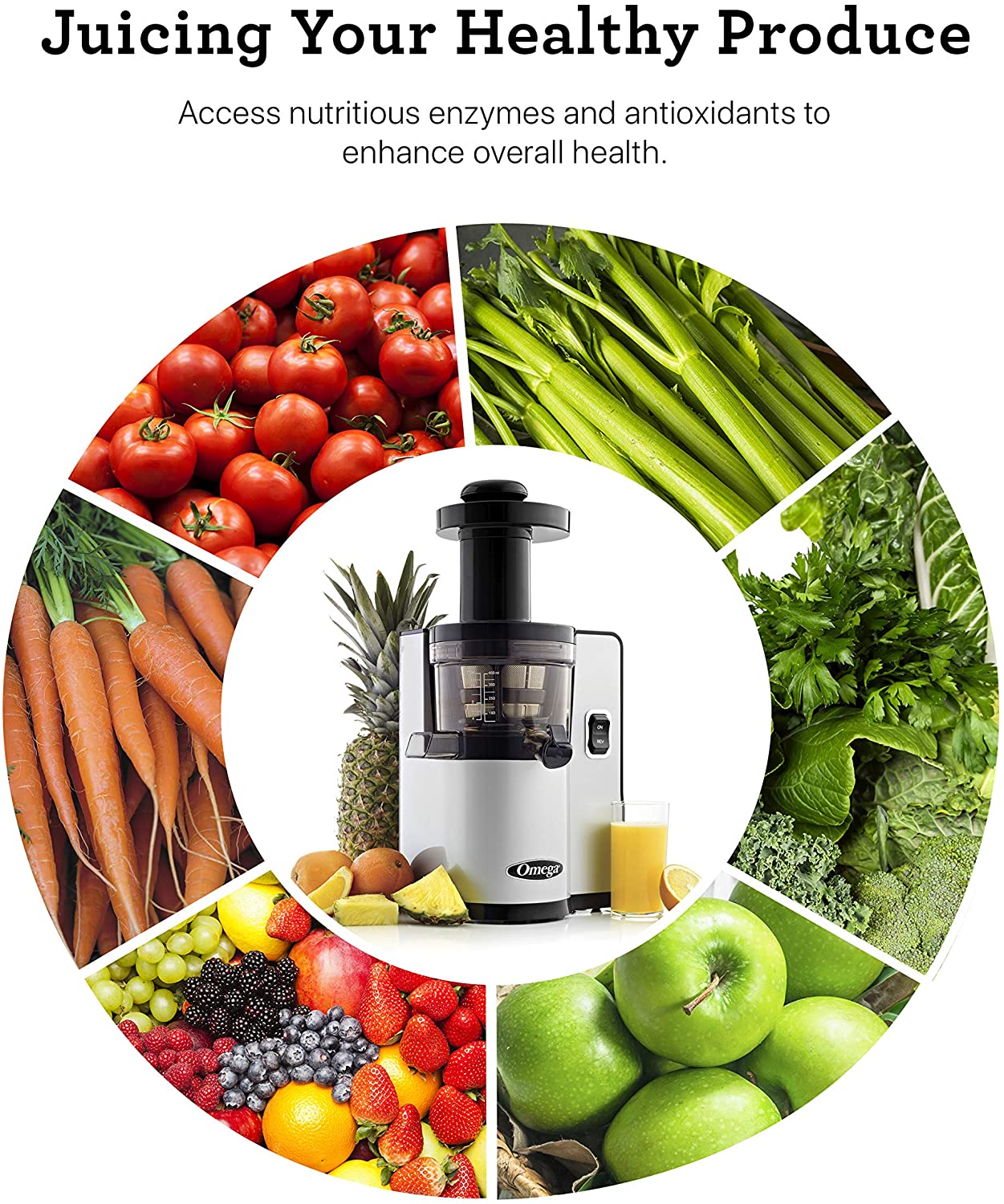 4.6. High-Grade Juice Quality
Since the Omega VSJ843 works at a very slow speed at only 43 rotations per minute, this slowly but surely separates the juice from the produce.
As this makes virtually pulp-free juice, it eliminates the most complained about factor when it comes to juicing. You will notice that the expelled pulp is really dry, indicating that you have extracted most of the juice. The result is an easy fresh and tasty beverage.
If you notice excess pulp, you can always run the juice in the machine again for a minute or so to further strain it. Since the oxidation levels are lower, the juice's shelf life is also improved. You can keep it in the refrigerator for 72 hours. This way, you can make them in batches for the whole day.
Tip: To maximize nutrient retention, drink your juice upon extraction or store it in a tightly sealed container and keep it cold.
4.7. Long Warranty Period
All Omega products have probably the most generous warranty period you would know of- 15 years of support on parts and performance. However, for places outside of Canada and the US, the warranty period is only 1 year.
Keep in mind that the warranty covers instances wherein it malfunctioned during regular use.
5. Tecnical Specifications
| | |
| --- | --- |
| | |
| | |
| | |
| | |
| | |
| | |
| | |
| | 7" W x 8 1/2" D x 15 1/2" H |
One package includes one of each of the following:
juicing screen
auto cleaner
plastic bowl with lid
bowl for the ejected pulp
cleaning brush
The Omega VSJ843 series is a vertical low-speed juicer that is efficient for making juices out of the widest variety of produce. It offers the lowest oxidation levels possible which results in fresh products that could last up to 72 hours.
It processes your drink as quietly as possible. It is easy to use and clean. The only thing that you would exert effort on is preparing your produce.
Though it is on the more expensive side, it has value for money as it does its job well, is durable, and backed up with a 15-year warranty by a trusted manufacturing company.