Wheatgrass is known for being an extremely healthy plant. It has a significant impact on your overall well-being, and can also help treating some diseases.
Wheatgrass owes mainly its marvellous attributes to chlorophyll – the pigment that gives a plant green colour, formed in a photosynthesis process. Best way to use all the benefits of this super plant is to add fresh wheatgrass to your dish or to make fresh juice from it.
In this article, you will learn more about the vitamins and nutrients wheatgrass contains, how it affects your body and what you need to grow your own, homemade wheatgrass. We will also help you to choose the best wheatgrass juicer. We hope you will become a wheatgrass lover like us!
 Wheatgrass' advantage lies in the fact that it is packed with dozens of vitamins, nutrients and other healthy substances. 
Chlorophyll
Let's start with its main component  – chlorophyll. The high concentration of oxygen in chlorophyll results in increased levels of oxygen in the blood. Chlorophyll from wheatgrass has a positive effect on the circulatory system in your body. Also, it has both antibacterial and antiseptic effects. It neutralizes toxins and carcinogenic compounds in your body that protects you from radiation and free radicals. Chlorophyll also has an impact on the digestive system – it prevents constipation and improves digestion. 
Vitamins
This particular plant is a source of the vitamin B complex, vitamins: A, C, E and K.  Vitamins E and C are strong antioxidants which protect your body from free radicals, and prevent diseases like diabetes, cardiovascular diseases, arterial hypertension, cancer. Vitamin A makes your skin look healthier and protects your sight. Vitamin K determines the proper blood coagulation process and B is responsible for the adequate growth of children, mental balance and also prevents cancer. 
Minerals
Wheatgrass contains calcium, iron, phosphorus, magnesium, potassium and sodium. Calcium with potassium regulate the work of the heart and restore the blood pH. Calcium is also a prominent builder of strong bones and teeth. Magnesium and phosphorus help with that too. Moreover, magnesium helps with digesting, gives you energy, and it's beneficial for the brain and helps with concentration. Sodium, for example, regulates the water balance in your body. 
Enzymes
Young wheatgrass contains a large number of enzymes, which prevent you from cancer, neutralize free radicals, stimulate the repair of damaged DNA molecules and a lot more. By drinking 30 ml of fresh wheatgrass juice every day, you can boost your immune system and help yourself with serious chronic diseases like cancer, hypertension, atherosclerosis, diabetes, problems with the digestive system, skin diseases, or even with Parkinson's disease and insomnia.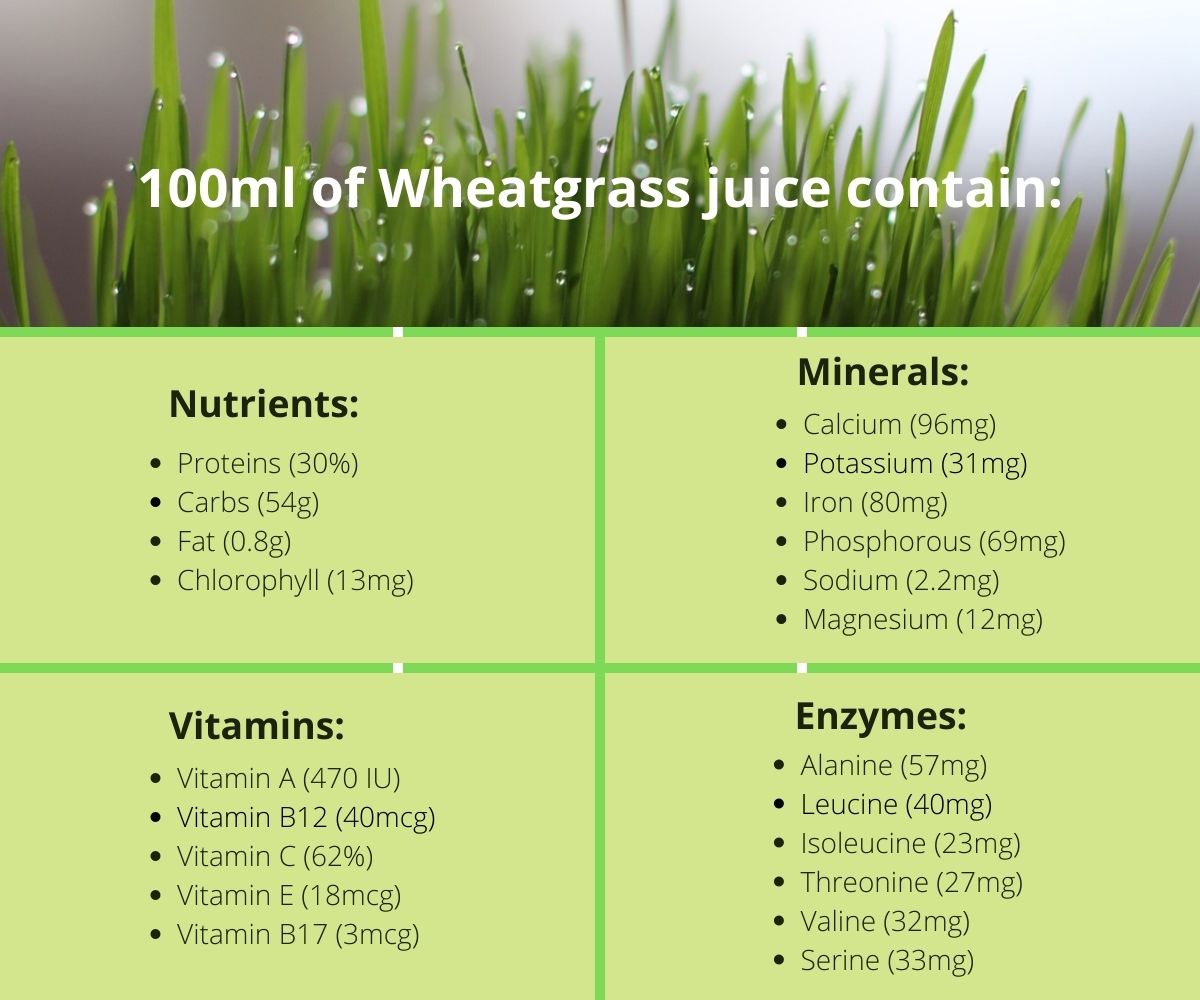 2. How to grow wheatgrass?
To enjoy your fresh, home-grown wheatgrass, you need six to ten days to grow it. Below you will learn step by step process of growing your homemade plant. 
You can buy high quality, organic wheatgrass seeds on Amazon by following this link.
Soak the wheatgrass seeds in a jar in lukewarm water. Leave it for 10 to 12 hours.

Pour out all the water, leave only the seeds. Rinse the seeds with water few times. Leave it for 2 or 3 days until the small roots will show up. 

At this stage, the seeds are ready to be planted. Pour the container with soil (3-4 cm / 1-1.5 inches) and spread the germinated seeds on it. Do not forget to sprinkle it with water. 

Cover it all with a paper towel and leave for a few days. Remember to keep it moist. 

When about 1 inch (2-3 cm) grass will appear, remove the paper towel, move your cultivation to a sunny place and water it regularly.   

When the grass is 5-6 inches (12-15 cm) tall cut it for juice.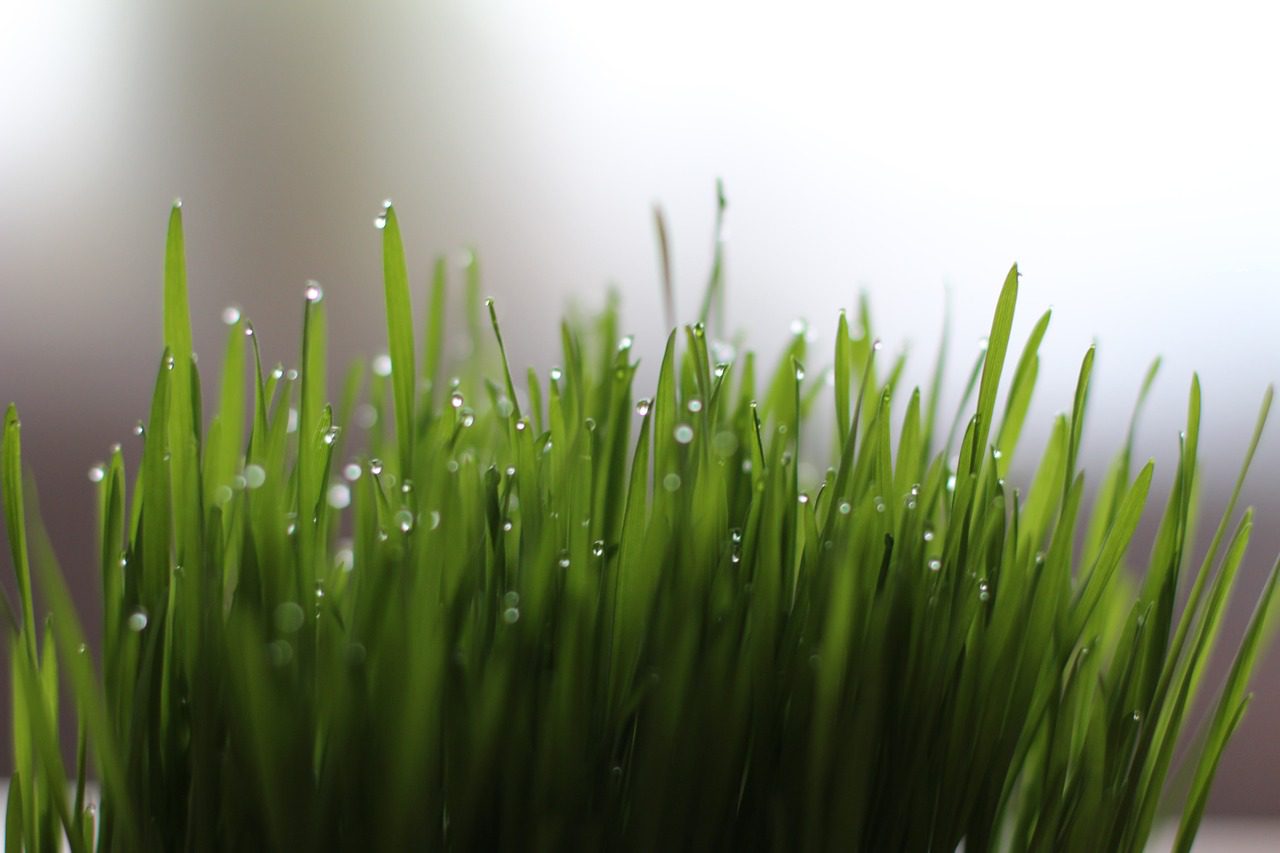 At this stage, having a good juicer is essential. We've got your back – we have researched the best juicers particularly suitable for juicing wheatgrass. In the next part of this article we give a detailed overview of 5 wheatgrass juicers. 
3. Best wheatgrass juicer – Top 5 choices
When it comes to choosing the wheatgrass juicer, you have two options: manual or electric. Some of the juicers are dedicated only to wheatgrass and others to leafy greens. All depends on your purposes. If wheatgrass is the main product you want to you make juice from, it is a wise idea to choose one of those below. Check out our top 5 selections. 
PROS

quiet motor

multifunctional product

15 years guarantee

perfect for leafy greens and wheatgrass

extracts maximum of juice from every product
CONS

juicer screen is not very durable

plastic auger
This Omega product is not only a perfect juicer suitable for wheatgrass but also can be a coffee and spices grinder, herbs and garlic mincer, nuts and peanut butter maker, nut milk squeezer and a lot more.
Omega NC800HDS is made of stainless steel and has 15 years of guarantee. Its motor is quiet but very powerful. Juices made with Omega last longer, because this item uses a low speed of 80 RPMs, that is why heat and oxidation are minimal. The adjustable end cap has special regulations for maximum juice output and extract.
Omega NC80HDS has 5 settings for different products. Use setting 5 while juicing wheatgrass, for maximum efficiency.
PROS

quiet motor

BPA free

easy to clean 

reverse function

three years warranty
CONS

not recommended to use it more than 20 min (to protect the motor)

made of plastic
This slow masticating juicer uses an upgraded seven segments spiral system for maximum efficiency to get the most of juice from each vegetable or fruit.
Aicok juicer is perfect for wheatgrass and leafy greens. Low speed (80 RPM) prevents oxidation. The foam is also minimal. You can quickly dismount it by clicking one button and cleaning it safely in the dishwasher. The auger can spin in both directions, which is very helpful in case some parts are stuck inside the juicer. The great advantage of aicok juicer operates without annoying noise; it is lower than 60 decibels.
PROS

affordable

designed for wheatgrass

easy cleaning
CONS

made mainly of plastic 

not versatile

stable counter or solid table needed
This manual juicer is dedicated mainly to leafy greens and wheatgrass. It is, of course, possible to make juice from carrots or other hard vegetables with this item, but you need your physical strength to do it so that it can be a tiring process.
Lexen juicer uses the cold press masticating process; that is why all the vitamins and enzymes stay in your juice. The celery, kale, spinach or wheatgrass will be converted into liquid in a glance! It is effortless to clean; it will take you no longer than a minute.
PROS

quiet (60dB)

dishwasher safe parts

three years guarantee for parts, ten years for motor

convenient size
CONS

not so easy to wash

plastic parts
This electric juicer will deal well with both hard or soft products, be it ginger or wheatgrass.
It is very easy to operate, has only a few buttons to click, including a convenient reverse option which prevents clogging.
Depending on what you make juice from, you can choose two options: hard or soft juicing. Koios doesn't produce much foam, so it can be a great choice of you don't like it. Thanks to the slow squeeze technology Koios juicer keeps the oxidation to a minimum. It prevents vitamins, enzymes, minerals, trace minerals and nutrients from being eliminated during the process.  
It goes in two colour versions white and black-red. 
PROS

stable build 

12 years warranty

innovative technology (twin gear system)

pressure adjustment mechanism
CONS

expensive

heavy

not easy to clean

many parts to put together
The last but not least of our top 5 choices for wheatgrass juicing is Tribest Green Star juicer. It goes in three colour versions: black, silver and white, which are made of different materials (polycarbonate – silver and black, plastic – white).
It can be used for hard items like nuts and soft vegetables like wheatgrass. The stainless steel twin gears have special points to copy the human chewing process. These cutting points, kind of like teeth placed on the gears, allow it to take out juice more efficiently from any product. Magnetic and bioceramic technology lets you extract the juice with more nutrients.
Another great feature of this product is the pressure adjustment mechanism. Without stopping the juicing process, you can easily change the force of pressure that is required for pulp ejection. 
We hope that we managed to point out the incredible impact the wheatgrass has on your health and also encouraged you to juice this product. We believe that with our selections of 5 best juicers for wheatgrass your choice of this kitchen equipment will become much easier.   
Enjoy wheatgrass juicing! May it become your daily routine. 
Liked the article? Share it!